Beloved,
Blessed Christmas greetings to all.
We who celebrate with joy the 2,018th (or so) birthday of Jesus of Nazareth, the Palestinian Jew, believe that God is revealed not in the spectacle of wealth and power, but in a baby, wrapped in swaddling clothes (Luke 2:12).
In the Christmas story, unchanged for two millennia, we encounter The Child, along with his young, unmarried mother and adoptive father, depending on the kindness of strangers, because there was no room in the inn (Luke 2:7). The Birth was meager, with The Child sleeping in an animal's feeding trough (Luke 2:16).
When Herod decided to slaughter the children, The Child, Mary and Joseph sought asylum in Egypt (Matthew 
2:13-18
). The story of refugees and asylum-seekers is the history of the world. It is as old as humanity.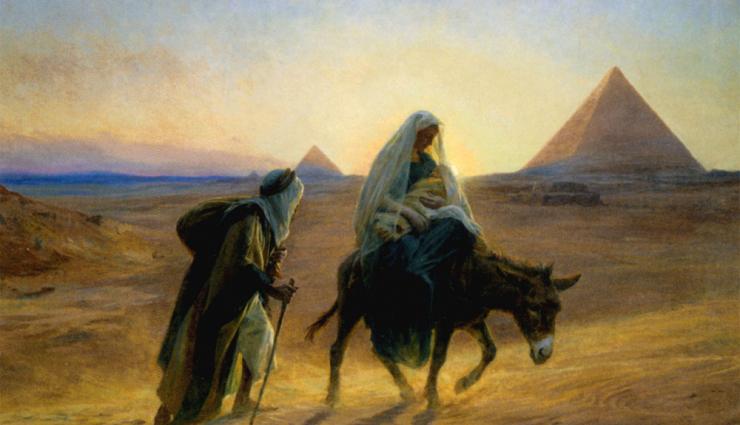 Those who seek Christ today need look no further than than the children in swaddling clothes who today are seeking refuge. Followers of Christ find him in the faces of the refugees, more than half of which are children, fleeing violence in Yemen, Syria, Guatemala, Honduras, El Salvador…
In a world of increasing complexity, Jesus offers moral clarity: "When I was a stranger, you welcomed me," (Matthew 25:35) and "whatsoever you do to the least of these, you do to me," (Matthew 25:40). It may be that kindness to strangers is the greatest act of moral selflessness.
May you encounter the joy of Christ this Christmas, like a lump in your throat, a pit in your stomach, coming in unexpected ways, like selfless giving, the kindness of strangers, the frightened faces of children, babies in swaddling clothes, and homeless refugees fleeing the Herods of this world.
Gloria in Excelsis Deo, and on earth, peace, goodwill to all,
Bishop Mike