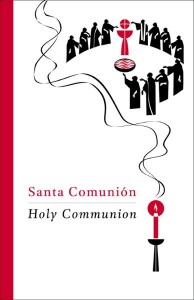 Santa Comunión / Holy Communion is a bilingual version of the Evangelical Lutheran Worship service of Holy Communion, with Spanish and English in parallel presentation. Some of the Spanish texts are newly translated, and others are from Libro de Liturgia y Cántico (Augsburg Fortress, 1998), which is the principal worship book in the Spanish language for the Evangelical Lutheran Church in America. The leaders edition includes the texts of all the offering prayers, prefaces, thanksgivings at the table, and prayers after communion from the Evangelical Lutheran Worship Leaders Edition. The Spanish version seeks to capture the sense of the original texts, and at the same time it strives to recognize common usage and idioms from across the diversity of Spanish-speaking populations.
This edition includes also the bilingual liturgical songs from Evangelical Lutheran Worship Holy Communion, Setting Seven.
Evangelical Lutheran Worship Santa Comunión / Holy Communion is also available in an assembly edition (edición para asamblea), which is comparable to the Evangelical Lutheran Worship assembly (pew) edition.