A good way to begin the Reconciling in Christ (RIC) conversation is through the Building an Inclusive Church toolkit and training.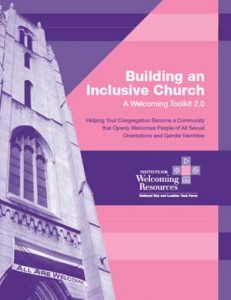 A Building an Inclusive Church (BIC) training helps you design and implement a journey for your congregation to publicly and intentionally welcome people of all gender identities and sexual orientations. Building an Inclusive Church equips you with ways to create dialogue, deepening relationships throughout the congregation rather than sparking debate and division.
You will have opportunities to engage through a mix of presentation, hands-on practice, and small group discussion. Many of the tools you will learn come from faith-based relational organizing. Grounded in scripture and discipleship, this training allows you to explore your own Christian call to hospitality and evangelism. The training is centered on the Building an Inclusive Church Toolkit and includes the tools of graceful engagement, the one-to-one visit, framing, and strategic storytelling.
What to Expect
The training has been designed specifically with congregations and their leaders in mind. Explore topics which will help you to become a more effective leader in working with congregations on issues related to human sexuality and gender identity for the purpose of helping a congregation discern God's call to become more welcoming and inclusive, particularly of LGBTQ persons.
The BIC Toolkit
Drawing upon over thirty years of experience within a variety of Christian denominations, "Building an Inclusive Church: a Welcoming Toolkit" is a step-by-step guide to help facilitate a welcoming journey in your congregation. It uses faith-based tools of relational organizing and congregational assessment.