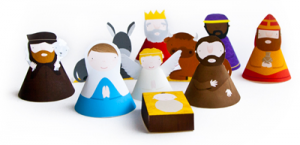 Marloes de Vries, a designer and illustrator from the Netherlands, has created a nativity set you can make from paper. Print out either the colored version or a line drawing that kids can color themselves. Then assemble the figures with a bit of glue.
F.A.Q.
Do I have to pay for your nativity set?
No, it's free. If you do feel that it's worth a small donation, this is greatly appreciated.
I'm a teacher. Can I use this nativity set in my classroom?
Yes, you can.
I want to sell prints of your nativity set. Is that okay?
No, absolutely not. The artist gives this set away for free, so it's not okay for you to sell them.
I want to blog/write/publish about your nativity set. How do I do that?
Yes, please feel free to write about, but also give credit to the artist, Marloes de Vries.