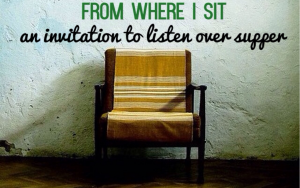 Have you ever tried to talk about a major issue in society or the world with your family members or friends? Was it a positive experience? Or did the conversation turn into a debate or argument with polar opposite views, anger, and frustration?
If you found yourself nodding your head in agreement with the last question, then you're invited to participate in "From Where I Sit", a resource that facilitates conversations around difficult topics in communities, congregations, and faith communities.
The goal of "From Where I Sit" is to create space for safe conversations. Upon entering into the conversation and sharing a meal together, participants agree to follow a set of ground rules, not only to ensure a space of mutual respect, but also to practice courteous discussion with an emphasis on intentional listening. These ground rules allow participants to feel safe as they engage in conversations around important topics, issues and concerns that are often avoided because they may be difficult to discuss.
Equally as important as the need to create a safe space is the necessity to create an environment in which participants are encouraged to speak and to listen. To help broaden and strengthen the conversation, a brief two page topic introduction will be shared with all participants. This provides a common pool of information with quotes and statistics from different sources and different perspectives on the issue being discussed.
The goal of "
From Where I Sit
" is not to judge or to change someone else's mind. The goal is to empower and equip people so they are able to respectfully listen to and share differing views. If successful, this approach could be beneficial for larger society, congregations, faith communities, and families. Churches have struggled over the past decade to find ways to create safe space for community conversations around difficult topics.  It is time to reverse this trend.