Sunday school for grades K-4. Ignite a Biblical imagination that lasts a lifetime. 
Holy Moly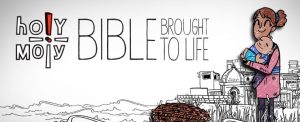 helps kids experience the Bible in unforgettable ways. Every Holy Moly lesson follows a four-part sequence: discover, relate, connect, and create. Each week, kids watch an animated Bible story video, talk about the story, read their Bible Storybook or Bible, and try a creative leaflet activity.
Holy Moly resources are available for kids in kindergarten through fourth grades by unit or as downloadable lessons a la carte, or you can access content for all lessons with a Sparkhouse Online subscription. Holy Moly includes ten units that can be covered in two years, spanning the Old Testament
and New Testament.
Why choose Holy Moly?
Bible-centered approach

Holy Moly follows the arc of the biblical narrative. Kids of all ages interact with the Bible in every lesson.

Age-appropriate resources

Holy Moly printed resources are available for kindergartners through fourth graders—equally engaging younger and older kids.

Excitement, joy, and surprise

Kids who field-tested Holy Moly said, "It was so hilarious!" and "I would be really excited if my church used it for Sunday school!"

Videos: More show than tell

Animated videos of the Bible stories don't use narration. Instead, visuals and sound effects give kids the opportunity to retell the story in their own words.

Kids continue the conversation

After class, Holy Moly kids walk away retelling the stories they've learned and take home completed activities to share with their family.

Leaders don't need to be Bible experts

Resources are designed so that leaders can take one look at the material, feel prepared, and know they'll be successful.