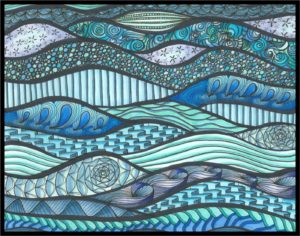 LEAD's resources are designed to be used by all ages and have been particularly meaningful for intergenerational groups. The 2017 theme, Let the Living Water Lead Us, looks at the water flowing through the Gospel texts: Week 1 – Temptation of Jesus, Week 2 – Nicodemus Visits Jesus, Week 3 – Jesus and the Woman of Samaria, Week 4 – A Man Born Blind Receives Sight, and Week 5 – The Death of Lazarus.
Each weekly liturgy, created by Lynn Willis, includes the following:
Invocation
Confession
Gospel from the Revised Common Lectionary
Prayer
Time of Silence (with prompts for reflection, an introduction and invitation into Ignatian Contemplation, and coloring*)
Blessing
For use by individuals, congregations or small groups during Lent, each is illustrated with original art by Vonda Drees, Director of Grunewald Guild. The images are available in several styles allowing you to customize them for your personal use or for your congregation.
Theme
The 2017 theme is Let the Living Water Lead Us. Using texts from the Revised Common Lectionary, the resources include:
Weekly bulletin with liturgy and prayers (in both color and black & white versions)
Weekly images to color
Prompts for engaging in a simplified form of Ignatian Contemplation suitable for all ages
The Lenten Resources are free, however LEAD asks that you register first to access them. We pray that they are a blessing to you this Lenten season.
How to Use
Congregations
As part of Sunday worship during Lent
For special mid-week Lenten services
Worshipers can be invited to engage in Ignatian Contemplation and/or color the black and white images during a period of quiet reflection
Individuals
As personal devotions during Lent
Daily practice with Ignatian Contemplation
Coloring the black and white versions provides time to reflect on the messages
Creative ideas that others have shared
A coloring table in the entryway for kids and adults
With confirmation students for devotion time
During a 3-hour silent retreat
In prison ministry settings
Small group bible study at a local restaurant
Conference clergy meeting
Coloring pages provided as a take-home resources
For an ecumenical bible study
At a local senior residence
Combined into a devotional booklet
Images enlarged as posters for group, collaborative coloring or hung as banners
Blessings sent out in weekly emails and posted on Facebook