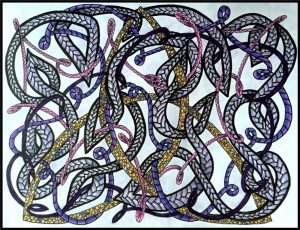 LEAD's resources are designed to be used by all ages and have been particularly meaningful for intergenerational groups. The five contemplative prayer liturgies are accompanied with coloring pages as well as full color and black & white images for use during Lent.
Each of the print-ready 2-page liturgies includes:
Invocation
Confession
Scripture readings
Prayer
Time of silence
Blessing
---
As you trace each knot, take a moment to breathe through the messiness.
Pay attention to the overs and unders.
Notice where the lines intersect and where they are separate.
Watch for relationships.
Breathe.
---
Theme
This 2018 theme is Committing to Life in Relationship with God. Using texts from the Revised Common Lectionary, the resources include:
Weekly bulletins with liturgy and prayers (in both color and black & white versions)
Weekly images to color
Weekly guided spiritual practices
The Lenten Resources are free, however LEAD asks that you register first to access them. We pray that they are a blessing to you this Lenten season.
How to Use
Congregations
As part of Sunday worship during Lent
For special mid-week Lenten services
Worshipers can be invited to color the black and white images during a period of quiet reflection
Individuals
As personal devotions during Lent
Daily prayer
Coloring the black and white versions provides time to reflect on the messages
These resources were created by LEAD featuring liturgies by Lynn Willis, Spiritual Director, and original art by Vonda Drees, Director of the Grunewald Guild. The image is made of up 5 separate Celtic-style "knots" representing the 5 covenants in the Old Testament readings. Each week during Lent, a new knot is laid on top of the previous week's image to create the final interwoven image.