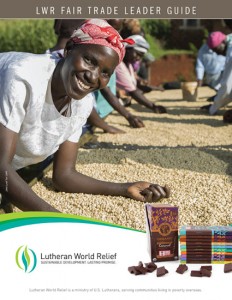 Are you considering starting a fair trade ministry within your congregation? Starting a fair trade ministry in your congregation is a great way to get your members involved in global ministry, and for them to use their consumer dollars in ways that improve lives.
If your congregation is thinking about starting a fair trade ministry, Lutheran World Relief (LWR) has a great, free resource for your congregation called the Fair Trade Leader Guide.
This beautiful booklet takes you inside the process of setting up your congregation's fair trade ministry and includes:
Guidance on how to set up a fair trade ministry unique to your congregation's needs
A year-long calendar of events you can use to plan out your annual fair trade activities
Stories of the people and communities your congregation reaches through fair trade
Special prayers to use throughout your program year
We pray it will make the experience of planning and carrying out a fair trade ministry even more enjoyable and meaningful!
Email LWR should you have additional questions.