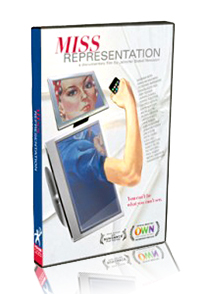 "Miss Representation" unpacks how the media objectifies women and examines the effect of this powerful medium on young men and women growing up. Using interviews of young people, as well as public figures such as Condoleezza Rice, Katie Couric, Rachel Maddow, Cory Booker, and Gloria Steinem, the film explores the depiction of women in mass media and questions its relation to female leadership in areas such as the film industry and government.
The task force watched the film as a group and found the discussion so valuable that they are inviting others to discuss it as well. Share your feedback with the task force.
The discussion leader's guide and participants' questions for discussion can be downloaded in three versions. Option A splits the material into four sessions, Option B splits the material into three slightly longer sessions, and Option C is one 3-hour session. Each option is appropriate for a variety of church groups, including youth groups and men's groups! In all options, each session begins and ends with Scripture and prayer and explores one aspect of the relationship between gender and media consumption. It provides questions for discussion about the issues that concern your group and can serve as a catalyst for further reflection and action in your community.
The DVD is available through some local libraries, can be ordered through iTunes or online, or viewed on Netflix.