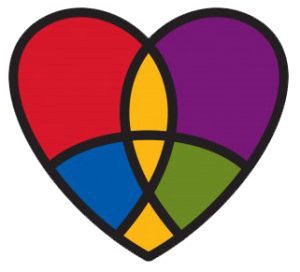 The Reconciling in Christ (RIC) Program is for congregations, synods, colleges, seminaries, and other Lutheran organizations. Lutheran communities that publicly welcome lesbian, gay, bisexual, and transgender people are accepted onto the Reconciling in Christ roster which now exceeds 600 settings. Most groups start the process of consideration by engaging in a study program or series of educational meetings. Hearing the experiences of LGBT people and their families often creates greater understanding and insights.
The RIC Journey
Begin a conversation
The RIC journey begins when only one person in a faith community wants to specifically welcome LGBTQ people into their midst.
The best place to begin is with the Building an Inclusive Church (BIC) toolkit and training. Drawing on over 30 years of experience, the BIC is a step-by-step guide to facilitate a RIC journey in your faith community. It also includes a RIC congregational assessment survey to determine an appropriate pace for your journey. Step one can take anywhere from a couple of months to a couple of years.
Write and pass a welcome statement
After your community has completed some education, discussion, and mutual discernment, you are ready to write a welcome statement specifically naming "LGBT" or "people of all sexual orientations and gender identities." You are invited to include more identities in your welcome statement if your community discerns an even wider welcome. Reconciling Works' sample affirmation statements resource will help you in creating a beautiful and rewarding statement.
Once the statement has been written, approve the welcome statement in a way congruent with how your faith community passes resolutions. Most times this is by a community-wide vote, but this could also be by a council, board, or other governing body.
Proclaim your welcome
After the welcome statement is adopted, let Reconciling Works know by filling out the RIC profile survey. A staff member will be in touch with you to review the survey, confirm that the language meets our standards, and answer any additional questions before your faith community is added to the roster of RIC participants. The RIC roster is publicly displayed on the website and is distributed appropriately as a witness to the community and the church at large.
A welcoming journey never ends.
RIC communities are often the communities asking "Who is marginalized in our church and society?" and "What might we learn about God from people different than us?" You're RIC! Now what? and Reconciling Works' dismantling injustice page are great resources to continue the welcoming and hospitality conversations.