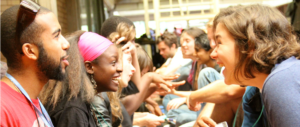 LEAD's Work Out Process is a ten-step program undertaken by a congregation to accompany leaders as they deepen their theological understanding, expand relationships beyond their comfort zones, and recognize the gifts, resources, assets, and humanity of all people. A connecting team will lead the process in the congregation by first moving through the steps themselves and then preparing to lead others in small groups through the Work Out Experience.
The 3 units include:
Thinking Theologically – seeing God in scripture calling people to expand their understanding of who is welcomed
Looking Back to Move Forward – using history to provide a framework for where we have been and where we are going
Sacred Interdependence – exploring shifts from an individualistic way of thinking to a collective way of being
LEAD offers resources, training, and coaching to help congregations successfully move through the process. Four different packages are available to meet the specific needs of your congregation.
LEAD offers the following resources, trainings, and coaching for the Work Out Process:
Work Out Guide with:

step by step timeline for the Work Out Process
detailed explanations for each of the ten steps
training activities
Bible studies
questions for listening and reflection
and more

Online training by a LEAD coach to equip the Connecting Team facilitator and the pastor to lead the Work Out Process
Coaching with experienced coaches to accompany your congregation through the process
Connect…With All Your Strength journal with prompts for reflection by Connecting Team members and anyone in the congregation who is interested in growing deeper in their faith
Congregational Assessment (available separately or included in Package 4)
The Work Out Process: Calling people of faith into meaningful relationships
Learn more about Work Out packages