By Tracey Breashears Schultz, Bishop's Associate for Leadership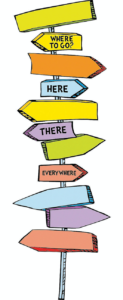 The more that you read, the more things you will know.
The more that you learn, the more places you'll go. –Dr. Seuss
As the pandemic persists, you may be weary of virtual experiences and Zoom gatherings, so I don't mean this article to seem insensitive. At the same time, I've become aware of many online trainings and continuing education opportunities being offered virtually, so if you have the energy for it, you might want to take advantage of this opportunity to take a course that might have been cost prohibitive before. Without associated hotel or venue costs, some registration fees have also been reduced.
Our Synod Compensation Guidelines recommend two weeks of continuing education per year for rostered ministers. If you've not taken this time yet this year or you've been putting off deciding what you'd like to learn, maybe this list of offerings will inspire you.
There are options here for video access, so you could buy presentations and then set aside a week to watch them in a way that works for your schedule. There are also more structured seminars available, or, if small group work is more your style, you might look for cohort opportunities. Another option is to take a week to read the stack of ministry and theology books you've been meaning to get to. (I have one of those, too.)
Whatever you choose for continuing education this year, I pray it takes you and your ministry to wonderful places.
The ELCA Network: Children, Youth, & Family Ministry
EQ-HR: The Center for Emotional Intelligence and Human Relations Skills
Exponential
Faith+Lead, Luther Seminary
Interim/Transitional Ministry Training
Life in the Trinity Ministry
Lutheran School of Theology at Chicago
Reconciling Works
Richard Rohr, Center for Contemplation and Action
Stewardship Kaleidoscope (3-day virtual event, Sept 22 & 29 & Oct 6, 2020)