Letter from Bishop Mike Rinehart to Rev. Dr. Samuel Ndanga-Toué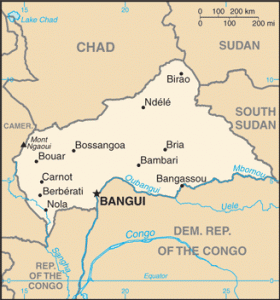 January 12, 2020
Dear Rev. Dr. Ndanga-Toué,
In this new year we greet you in the name of our Lord and Savior Jesus Christ, on behalf of the congregations of the Louisiana Gulf Coast Synod.
Our prayer for you, for the Eglise Evangélique Luthérienne de la République Centrafricaine, as well as for all citizens of the Central African Republic is that God keep and accompany you on the path to peace and to the healing of religious, social, political and economic relationships in the country.
We want to assure the EEL-RCA that we will support you in prayer, in thought, and in finances during this year and we ask that you also pray for the partners of the EEL-RCA, for the ELCA, and for the United States.
Together in Christ,
Michael Rinehart, Bishop
Carolyn Jacobs on behalf of the Gulf Coast Synod CAR Team
Letter from Rev. Dr. Samuel Ndanga-Toué to Bishop Mike Rinehart
1/28/2020
Dear Bishop Michael,
May the grace and peace of our Lord, Jesus Christ, be with you.
First, I apologize for the delay in my reply to your email.  That was beyond my control.  The region of Nana Mambéré where I am located suffered from three weeks of disruptions in Internet connection.  This situation made communication impossible.  Thanks be to God, the situation has stabilized.
First, I extend to you and to all your colleagues all my wishes for the New Year which has already begun.   May it be good and prosperous for you and all those whom you hold dear.  We wish that this new year will bring many successes and dynamism in the partnership which unites us.  I cannot fail to express my appreciation for the many forms of support which you have given the EEL-RCA in past years.
Thank you so much for your prayers for the Church as well as for the return of peace in the Central African Republic.  Thank you also for the hope that you give to the EEL-RCA regarding support in this year   We are delighted to feel you always at our side accompanying us.  And we keep you always in our prayers.  May God bless even more the common ministry in which we are engaged.
Together in Christ,
Rev. Dr. Samuel NDANGA-TOUE
President, EEL-RCA