By Chris Markert, Bishop's Associate for Mission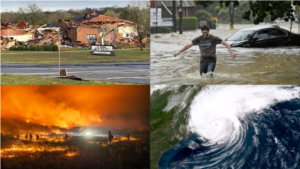 This past month Iowa was hit with a derecho, a storm with hurricane force winds that damaged homes and property, including millions of acres of crops.  Wildfires are currently burning out of control in Northern California and in Colorado. In March, a devastating tornado in Tennessee claimed the lives of 24 people and leveled one of our ELCA congregations, and in May Michigan saw historic flooding.
The Gulf Coast Synod is no stranger to natural disasters. With previous hurricanes and storms, churches, synods, and individuals around the ELCA have generously given to support the work of our synod disaster response and recovery. And, so, we stand ready to assist and support those synods that are impacted by severe disasters.
The Gulf Coast Synod Disaster Team has a guideline that a reserve of $30,000 is kept in the general synod disaster fund for when disaster strikes in our synod. When there is more than $30,000, and disaster strikes in other places, the synod has often offered small grants to the synods that are impacted.
In 2020, our synod has given disaster grants to the Sierra Pacific and Rocky Mountain Synods in response to the wildfires, as well as to the Southeastern Iowa Synod for the recovery work following the derecho storm. We also gave a grant to the North/West Michigan Synod for the severe flooding that occurred in late May, and to the Southeastern Synod for the recovery work following the tornado disaster in March.
We give thanks to God that we are able to generously witness to what it means to be the Church together, especially when disaster hits.
Consider donating to our synod's disaster fund.
Help us replenish the inventory on our synod's disaster trailers.
Learn more about the work of Lutheran Disaster Response.
If you're interested in learning more about our synod's Disaster Team, or to join the team, contact Pastor Brian Deckinger.