By Tracey Breashears Schultz, Bishop's Associate for Leadership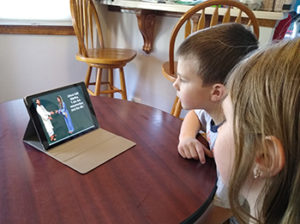 Faith Formation may look very different today than it did before the pandemic. Even so, congregations, educators, and families are eager to provide programming to spark curiosity about the Bible and our faith journeys while engaging students in ways that are age-appropriate and safe.
I recently asked leaders in our synod what Faith Formation or Christian Education materials they're using this season, and they've been generous with their responses and with their willingness to share with others:
Virtual/Online Curriculum Resources
Blessings for the [Digital] School Year
Sara Ray, Director of Children's Ministry & Outreach at Kinsmen Lutheran in Houston, shares that they've changed the traditional "Blessing of the Backpacks" to a "Blessing of the Devices," and are offering it for all ages (and not just for children). They will lead this blessing during livestreamed worship on Sunday, September 6, and then they will offer an in-person blessing in the parking lot that same day. Those who participate will be given the gift of a sticker to place on their computer, phone, water bottle, or wherever they will be reminded God's blessings while they learn online. Sara is using this material from Building Faith as the starting place for this idea and commends it to you.
Children's Message/Children's Sermon Websites
Confirmation
Toolbox for Faith is online curriculum developed by leaders who regularly work with youth. Pastor Jerry Wirtley, Campus Pastor at Treehouse Ministries, is a contributor, as is Pastor Ariel Williams. Three topics are offered: Old Testament, New Testament, and Catechism. The materials, like grace, are free!
Escape Room Style Curriculum
Deacon Katharine Cameron, Deacon for Faith Formation at St Paul's Lutheran in Brenham, TX, is putting together "The Game," a 7-week series that will have families explore seven major stories of the Old Testament through an escape room style curriculum! "Each family that signs up to be a part of The Game will get a box delivered to their door the week before it starts. This box contains everything they'll need for their entire 7-week journey.  On Mondays of each week, families will get an email that gives them the clues for the week ahead. Some clues will lead them to more clues, and at some points in their journey, they'll e-mail us back to submit their responses and either receive more information they need or be entered into raffles for prizes.   Overall, the journey will guide families into forming a puzzle map that will spell out a secret word that they are trying to discover.  If all goes well, we are going to create The Game 2.0 for the Spring that journeys through the New Testament."
Deacon Katharine says "The Game" will begin at the end of September, so later this month, she invites people to contact her, and she'll share.
Godly Play
Alice Weaver, Godly Play Storyteller and member at Zion Lutheran in Houston, has started a Facebook page called Godly Play at Zion Houston so their members can tune in to hear Godly Play stories, and she invites you to join, too. At the end of each story, you will hear Alice offer a series of wondering questions. Engage these questions with family or your virtual small group.
Kids' Mission: Secret Agents of God
Emily Billin, Minister of Missional Community at Faith Lutheran in Galveston, TX, offers this 11-week curriculum (for Pre-K to 6th grade), video lessons paired with service ideas and ways to share God's love in the world (aka secret missions)! Emily invites your inquiries.
Learning with Lutherhill
Pastor Jen Kindsvatter, Director of Programs at Lutherhill, offers the following four options:
Best.Day.Ever. A day of fun at Lutherhill, where there's plenty of sunshine, joy and space to physically distance! Through intentional conversations, many families have shared that they would feel comfortable coming out to camp for a one-day, outdoor event. Share the opportunity with your community or rally a group of families to caravan to camp. Find more details here.
Virtual Guests! Lutherhill's Program Directors, Curtis and Kylie Jo would be delighted to join you virtually for Children's Sermons, Sunday School or a Youth Night! The possibilities are limitless! How about a trivia night or a discussion about faith in college with our alumni summer staff staff? Matt and Pastor Jen Kindsvatter may also be available to preach or bring greetings in your community worship.
Virtual Day Camp. We produced a virtual offering this summer in collaboration with Living Word in Katy. Feel free to use the stories, curriculum, music and graces for your congregational needs. You could even transform the 5 day model into a 5 week Sunday School Curriculum. Find more details here. 
Summer Trips. We're looking forward to next summer with hope and creativity! With the Youth Gathering postponed, we've ramped up our work on adventure programs. We're thinking pre-planned mission and adventure trips to Galveston, Louisiana, Colorado and Arkansas. We're still in the planning phases – we'd love to work with your congregation to create a transformative summer experience for your high school youth. Contact

[email protected]

 or 

[email protected]

 for possibilities.
Story, Song, and Snack
Living Word in Katy, TX created seven weeks of curriculum in the style of VBS. These videos are paired with devotions for families. To find the videos, type Story Song and Snack into the search bar on their Facebook page. For accompanying devotions, contact Pastor Ariel Williams, Associate Pastor at Living Word.
Weekly Series Based on the Spark Sunday School Curriculum
Lord of Life Lutheran Church in The Woodlands, TX is offering weekly "Sunday School." These video lessons are paired with at-home activities for children and families.