By Bishop Mike Rinehart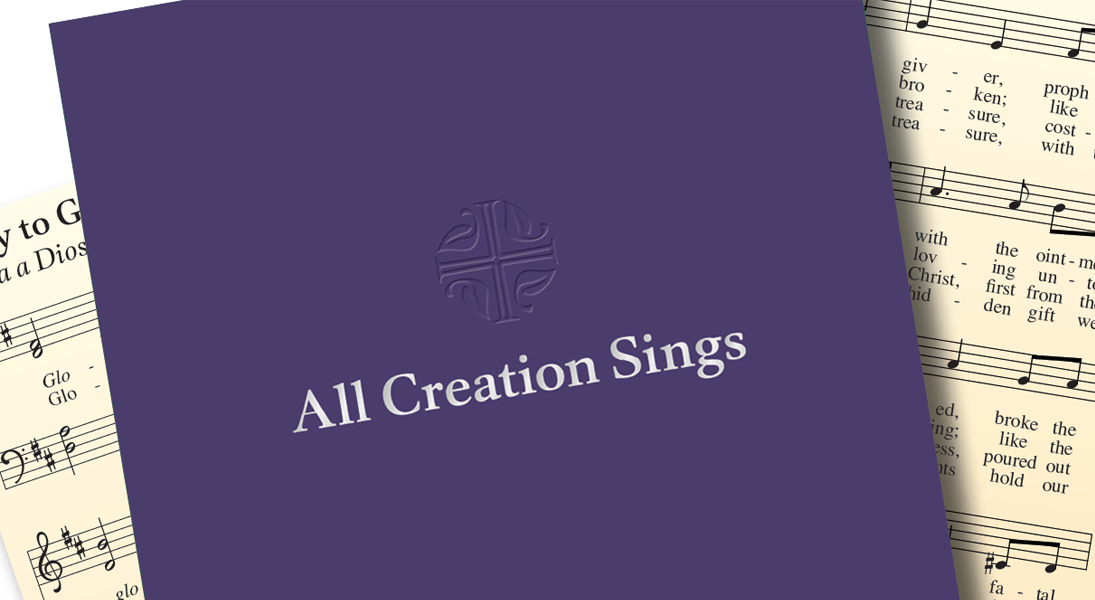 If you have a subscription to Sundays and Seasons, you have access to most all of the Augsburg Fortress hymnals, including the new All Creation Sings. This hymnal seeks to lift up more hymns about creation, hymns about the environment, hymns of lament, and hymns of that use feminine imagery for the divine. There are nearly 200 additional hymns in your toolbox now. Some are new texts to well-known hymn tunes, while others are new hymns for traditional and contemporary worship. There are also two more settings of Holy Communion: Setting 11 in English and in Spanish, and Setting 12, appropriate for an evening Eucharist.
It may take a while to digest them all, so here are some hymns to consider for the Easter season. The seven new Easter hymns begin at 933 and go to 939:
933 Day of Delight and Beauty Unbounded
934 Christ is Living
935 Woman, Weeping in the Garden
936 Day of Resurrection
937 Earth, Earth Awake!
938 Christ is Risen While Earth Slumbers
939 Touch that Soothes and Heals
933 Day of Delight and Beauty Unbounded
This hymn is set to the familiar hymn tune In Thee is Gladness (In Dir Ist Freude). This festive tune, sung in three (or six), evokes joy. The text is by the Benedictine Catholic hymn writer Delores Dufner. There are onky two stanzas, so this hymn goes by quickly.
Sing of the sun from darkness appearing;
Sing of the seed from barren earth greening;
Sing of creation, alleluia!
934 Christ is Living
The accompaniment version of Christ is Living includes fun rhythmic notations for claves, maracas, tambourines, congas and guitar. The text is by Nicolás Martínez and the tune by Pablo D. Sosa. The words are in English and Spanish: "Cristo vive!" "Christ is living! Gone with sorrow!"
935 Woman, Weeping in the Garden
The tune for this hymn comes from Thomas Pavlechko, musician at St. Martin's Lutheran Church in Austin, Texas. The text is one of the few that highlight's the women's role in the resurrection story.
Woman weeping in the garden…
Woman waiting in the garden…
Woman walking in the garden…
Woman dancing from the garden, find the others and proclaim
Christ is risen as he promise; tell the world he knew your name!
936 Day of Resurrection
This hymn is based on an ancient text by John of Damascus (696-754) and set to a tune by Robert Buckley Farley.
Now let the heav'ns be joyful, let earth its song begin,
The round world keep high triumph, and all that is therein.
Let all things seen and unseen, their notes of gladness blend;
For Christ the Lord has risen, our joy that has no end.
937 Earth, Earth Awake!
This hymn picks up the theme of the earth rejoicing at the resurrection. Themes of Spring are lifted up, so clearly a northern hemisphere hymn.
Earth, earth awake! Your praises sing! Alleluia!…
Bright suns and starts, your homage pay! Alleluia!…
Life reigns again this Easter day! Alleluia! 
938 Christ is Risen While Earth Slumbers 
Christ is Risen While Earth Slumbers is set to Calvin Hampton's haunting tune (St. Helena) some may know as "There's a Wideness in God's mercy." The accompaniment edition offers an alternate harmonization. The text, by John Bell,
Christ is risen while earth slumbers, Christ has risen where hope died,
As he said and as he promised, as we doubted and denied.
Let the moon embrace the blessing; let the sun sustain the cheer;
let the world confirm the rumor; Christ is risen, God is here!…
Christ has risen and forever lives to challenge and to change
All whose lives are messed or mangled, all who find religion strange.
Christ is risen, Christ is present making us what he has been:
evidence of transformation in which God is known and seen.
939 Touch that Soothes and Heals
One last offering. This hymn, text by Mary Louise Bringle, is well-suited for the Sunday after Easter, where Thomas asks to see Jesus' wounds.
The refrain sung after each of the four stanzas moves from the resurrected Christ to the call to carry on his ministry in the world, loving, serving, feeding, visiting…
"See my hands and feet," said Jesus, love arisen from the grave.
"Be my hands and feet," said Jesus "live as one I died to save."
Here are stanzas 3 and 4:
3. Love and serve without distinction all earth's people, first and least.
Know within each act of kindness hope and wholeness are increased. 
4. Hand that beckon little children, bind a wound, prepare a meal,
Feet that rush to share good tidings, Christ arisen, still reveal.