By The Rev. Chris Markert, Bishop's Associate for Mission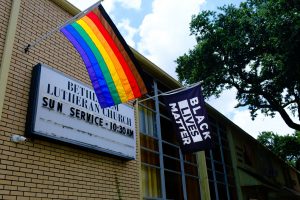 Bethlehem Lutheran Church is the Gulf Coast Synod's only historically black congregation (loosely defined as churches established prior to the 1964 Civil Rights Act to serve primarily African American communities and families). And according the Pastor Ben Groth, at 132 years old, Bethlehem is also the oldest historically black ELCA congregation in the continental United States.
In the late 1800s and early 1900s, prior to school integration, Bethlehem had a school that served neighborhood African American children. The school flourished, with over 300 students enrolled in 1914. In 1999, Bethlehem entered Redevelopment. However, following Hurricane Katrina the congregation lost half of its membership. In 2017, the congregation recommitted to the Redevelopment process, and Pastor Ben Groth was called in 2018 to serve as their Redevelopment Pastor.

One of the first things that happened when Pastor Ben arrived was the congregation raised two flags in front of the church building- A Black Lives Matter flag and a Rainbow flag. Pastor Ben says that since then, the vast majority of first-time visitors and guests at Bethlehem have come because of the flags. There was even an incident when the rainbow flag was vandalized; however a United Church of Christ congregation in California has offered to always replace the flag if it ever gets defaced in the future!
Over the past year, Bethlehem has spent time re-connecting with and listening to its local Central City neighborhood. Bethlehem now hosts the monthly meeting of Voces Unidas, the Louisiana Immigrants Rights Coalition, and last fall hosted a community-wide Anti-Racism Workshop in partnership with the renowned People's Institute for Survival and Beyond. Since Pastor Ben has arrived, worship attendance is up, and it is the first time in several years that Bethlehem ended the year with a balanced budget!
Even more exciting, beginning March 1, in celebration of their 132 years of history in their neighborhood, Bethlehem will be launching a new ministry called Community Table. Every Sunday after worship, Bethlehem will serve a free home-cooked meal that's open to anyone and everyone in the community.
The Synod Mission Table is proud to continue to support the work of redevelopment at Bethlehem. And you are also invited to support this work, especially the new Community Table meal ministry, by clicking here. And an anonymous donor is giving an extra $20 to the campaign for each of the next 100 new donors!
Your congregation can learn more about becoming a Mission Companion with Bethlehem. And learn more about Bethlehem by visiting their website!