By Bishop Mike Rinehart
Each year two reports are due on February 15: an Annual Report of the Congregation, and an Annual Report of Pastors and Deacons to the Bishop. These reports are completed at the beginning of each year, to take stock of the previous year. Both can be done online. To understand these reports, and why they are important, keep reading.
Annual Report of the Congregation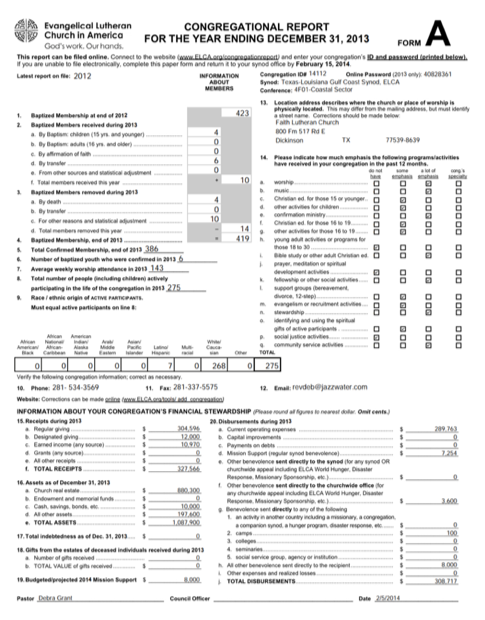 The Annual Report of the Congregation is in two forms: Form A and Form C. Form A asks questions about baptisms, confirmations, membership and attendance. There are also financial questions about operating expenses, debt, mission support and other benevolence. Form C consists of other questions prepared by the ELCA's Office of Research and Evaluation. These questions tend to change. The answers to these questions can identify regional trends in worship and ministry. Of course, the higher the response rate, the more accurate the information. 
This responses to these questions give us all longitudinal data across the synod and across the ELCA. This creates a historical record. It also provides longitudinal data for research purposes. It provides a snapshot of how the congregation, synod and entire ELCA are doing. Perhaps most importantly, it is a time for leaders to sit down and take a look at the big picture. The metrics in this report may not be all the metrics you need for effective leadership in your congregation and community, but they provide at least some of the information. 
I found most efficient way to get it done was to ask the church admin/secretary to make a copy for the treasurer, requesting the information by February 1. A copy went to whoever was tracking Christian education. There were a few of the questions left for me as pastor to fill out. Finally, the admin/secretary filled out the attendance, membership and other information from the database or parochial record book. The admin/secretary would gather all the information onto the form, then go online and input the information by February 15. I would share the final information with the Congregation Council. It really didn't take all that much time. We found it a useful exercise for the most part. Sometimes it would spur us to look at other data not requested on the forms. Leading effectively with integrity mean taking an eyes-wide-open, honest appraisal of where we were, and where we are.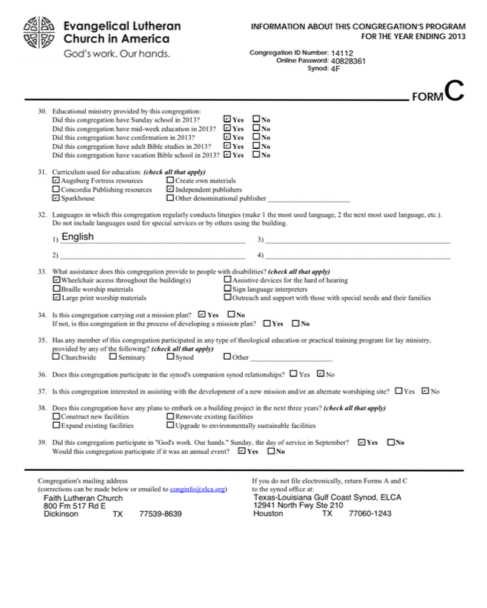 Report to the Bishop
The Annual Report to the Bishop offers an opportunity to update contact and other personal information. It also invites rostered professional leaders an opportunity to reflect briefly on how things are going. I read every single one of these reports. Every year one or two make us aware of a concern that may need attention. Other times we find out good news that modest leaders have been reluctant to share. 
This takes only a little bit of time, but it is a wise exercise for self-aware leaders. What are you celebrating from the last year? What are you grieving? What are you looking forward to in the coming year? Am I still in the right place, in the right time? Is my energy for ministry high, or am I feeling restless? These are questions that might make a good Ignatian Consciousness Examen for ministry. Use them for your devotions this this week. Perhaps they will make you aware of directions the Spirit is leading you.  
We have simplified this report, and also made it available as a web form on our synod website, one for Pastors, and another for Deacons and Synodically Authorized Lay Ministers. 
Thank you for taking time to tend to these reports. I look forward to these reports. It's like an annual exam, with diagnostics and vital signs. I learn so much. It is very hard to lead effectively without good data and intel. Kudos to all of you who are out there knee-deep in ministry in this ever-changing context. Many thanks to accountable, collaborative and reflective leaders who are aware of themselves and their ministries, and willing to share.