By Michael Rinehart, Bishop of the TX-LA Gulf Coast Synod
In recent conversations with synod staff and synod deans, we have been brainstorming the needs and challenges we've all had during the pandemic, as well as the questions we've been asked. What resources might congregational leaders need the most? After coming up with a long list, most things fell into three categories. This issue of Connections addresses these categories:
Resources on pastoral care and dealing with anxiety: How can we organize to intentionally care for healthcare workers, teachers, school administrators, first responders, and working parents with school-age children? Pastor Chris Markert has curated resources for this area and his article is in this issue of Connections.
Resources for faith formation in the congregation and continuing education for professional church leaders: How do we do socially distant Sunday school, Bible study, Christian ed, confirmation? What continuing education opportunities are available online these days? Pastor Tracey Breashears Schultz hass curated resources for this area.
Resources on technology: How do we do a good job of livesteaming worship? How do we set up for outdoor worship? I am curating resources in this area.
This is not the end of a conversation, but the beginning. Information here can be found on the synod website. Much of it has been and will continue to be crowdsourced. We continue to learn from one another. The Gulf Coast Synod Leaders' Facebook Group ADD LINK, is a great place for us to share ideas.
Most Used 
I recently asked leaders what tech has been most helpful. Here's what they said. Zoom was the winner.
Google everything- drive, docs, classroom, etc. We've used Camtasia as video editing software, but it takes up a ton of space. Vimeo and YouTube. Prezi.
Slack and MS Teams. A good smartphone and mic for video-recording. iMovie. Dropbox. A strong internet connection with high bandwidth. A laptop light for Zoom calls. Skype for Business has been horrible to work with for me.
A good set of comfortable headphones. Second the Camtasia or some sort of screen-capture software; it's been helpful for those times when someone asks, "How does this survey look?" to be able to record taking the survey and sending a link to the video. The video explains much more clearly and quickly than my explaining, "well, you see on question 3….there's any issue with the formatting of the text box…."
Zoom has been the biggest. Our staff has migrated and is using Microsoft Teams for all office stuff including staff meetings, worship planning etc. We are using Churchstreaming for our streaming purposes- Facebook, Website, YouTube, App.
Zoom and Google Drive, Snowball mic on swing stand, battery case for phone, Miles of Ethernet, SlingStudio, Extra iPhones for cameras, many monitors, good webcam, multiple sets of Bluetooth headphones, iPads, solid internet connection, Restream.io
Zoom, Messenger video calling, Apple Computers, Chromebook to read newspapers with online subscriptions to a half-dozen papers, my iPhone, My Kindle to read books with portability saving space, Hi-Speed reliable internet, Online banking, email, texting, Sirius XM radio and news, cable news CNN and Bloomberg, the excellent online newspapers I read every day, Facebook, etc.
Conference: ZOOM, Google meet, Cisco Webex meetings, Microsoft Teams
Platforms: YouTube, Facebook, Telegram
Text / group chat: Facebook messenger, WhatsApp (Americans), LINE (Taiwanese), WeChat (Chinese), Kakao Talk (Koreans), Viber (Vietnamese, SE Asians)
Storage/sending large files: Dropbox, Google drive
Discord
Slack
iPhone
Outdoor Worship
It turns out that outdoor worship is much safer than indoor worship. Wide open spaces and wind carry breath aerosol up, out and away. Whether on the lawn or in the parking lot, outdoor worship can be fun. There is also some history to it. Acts 16 describes an outdoor place of worship in Philippi:
11 We set sail from Troas and took a straight course to Samothrace, the following day to Neapolis, 12 and from there to Philippi, which is a leading city of the district[c] of Macedonia and a Roman colony. We remained in this city for some days. 13 On the sabbath day we went outside the gate by the river, where we supposed there was a place of prayer; and we sat down and spoke to the women who had gathered there. 14 A certain woman named Lydia, a worshiper of God, was listening to us; she was from the city of Thyatira and a dealer in purple cloth. The Lord opened her heart to listen eagerly to what was said by Paul. 15 When she and her household were baptized, she urged us, saying, "If you have judged me to be faithful to the Lord, come and stay at my home." And she prevailed upon us. 
Christians have worshipped outdoors for centuries. Think of the day of Pentecost. Not every church property has a space that lends itself acoustically to projecting voices. A sound system may be helpful. Some congregations, like the four congregations of Shared Lutheran Ministries of Fayette County (SLMFC) have held worship in the parking lot. Members tune in on their radios to listen to the service.
Phil Oestreich got them set up with an FM transmitter to make this happen. I asked him to share the things he used.
"We have a mic for the worship leaders to use," Phil says. "We also pre-record the music with vocals to play back during worship.  The play back of the music is accomplished using a power point on a laptop connected to the MP3 port of the radio transmitter.  We also use a large outdoor speaker which has a FM receiver built into it.  This way we can monitor the transmission as well as provide audio to those who either do not want to use their cars radio.
This is the Radio Setup they use for our Parking Lot Worship.  This particular model has two inputs one for the mic and one for a MP3 connection.  Note the radio comes with an antenna which I strap to a mic stand.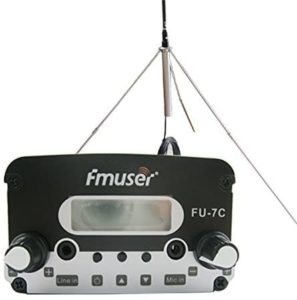 FMUSER FU-7C CZE-7C CZH-7C 7W FM Stereo PLL FM Mini Radio Station/Home Transmitter + GP Antenna Power Kit Black
Sold by: FMUSER Official $139.00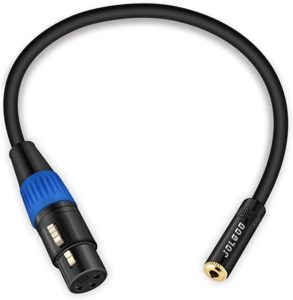 XLR Female to 3.5mm Stereo Jack Audio Adapter Cable, 3-pin XLR Female to 1/8 inch TRS Mini Jack Adapter Cable, 1 Feet, Balanced Audio Converter Adapte
Sold by: Jolgoo $9.99
Livestreaming worship
Different congregations have different needs when it come to livestreaming. Some congregations were already livestreaming before the pandemic. Others are have scrambled to make it work. There are very large and very small worship spaces. Setting it up can be as simple as a smart phone on a tripod streaming to Facebook Live. As long as you stay close to the microphone on the phone, you're good. If you move away, you'll need an audio set up. Add in music and things get more complex. Is your sanctuary dark? You'll probably want some lights.
Iglesia Luterana Principe de Paz was doing livestream with an older phone. The audio was difficult to hear and the video a bit blurry. Recently, Rafael Suarez, Technical Arts Coordinator at Living Word Lutheran Church, offered his time to help Principe de Paz get set up. The whole thing cost about $650. Here's what he used.
Congregations have used Facebook Live, YouTube, Vimeo, Zoom and other platforms to make online worship available to congregations.
Video Conferencing 
I don't know about you, but I've had more video conference calls this past few months than in the rest of my life combined. Here are some of the most platforms that are being used. If you are hosting the meeting, you will need a subscription, but most of these have free accounts. If you participating in a meeting that someone else is hosting, you probably won't need an account in most cases, but the first time you use the platform you'll have to download a small software package/app. Be sure to log on early. Participants will need a computer with a camera and a microphone, but many offer call-in options if you have folks that don't have good internet service, or are simply tech-averse. Video conferences allow you to see people smile, nod, and frown. Body language adds a lot. They also allow you to share documents and photos with everyone. See how they compare below. At this time, Zoom is my personal favorite. It's not the least expensive, but it has been the most hassle-free and easy-to-use in my experience during the pandemic.
Zoom – Zoom has taken off. As everyone has gone online, Zoom has sprinted to keep up with the subscriptions. Be sure your settings send participants to a waiting room. The host can let in the names of those they know are supposed to be in the meeting, so that you don't have unwanted participants with ads or worse. Different subscription levels allow for 50, 100, 500 or 1,000 participants. The Zoom Pro plan is $14.99 per month: 100 participants with meetings up to 24 hours. For $19.99 per month per host, the Business plan offers minimum of 10 hosts, or the Enterprise plan (minimum of 50 hosts) for up to 500 participants. The free account allows up to 100 participants, but is limited to 40 minutes.
Skype – Skype will let you have up to 50 people on a free call. It has required more bandwidth in the past and had some glitches, but I believe they have worked through these issues.
Go To Meeting – Go to Meeting is much like Zoom. Zoom worked out some bugs that GTM had encountered. GTM may have overcome these by now. They offer a 14-day free trial.
Google Meet – Google Meet (formerly Google Hangouts) has over 2 million users a day. With the right subscription it can handle meetings of 250 and livestreaming for 100,000. At this time, Google Meet offers unlimited access to group with a free account. It's easy to use, and you can set up meetings with Google calendar. G Suite has Google Meet bundled for $6/person per month, but keep in mind this includes cloud storage, use of docs and apps. The Business plan costs $12 per user per month. Enterprise costs $25/person per month.
Microsoft Teams – MS Teams is a bit more complex to learn. Video conferencing is a small part of a larger online system for office collaboration. Those without subscriptions can take part in video conferencing. If you already have Office 365, MR Teams is free. You van have 300 team members, unless you have the enterprise edition, which is good for as many people as you need. Office 365 Business Essentials costs $5/person per month. Office 365 Business Premium is $12.50/person per month, and Office 365 E3 (enterprise) is $20/person per month.
Ring Central Office – Used more for business functions, video conferencing is part of a larger suite of virtual office features.
Facetime – This is an easy way for two people to connect, but both need to have Apple devices, either an iPhone, an iPad or a Mac.
If you'd like really good sound, get an external microphone. This PowerDeWise video mic kit for iPhone costs $50. This is a kit that I use for my weekly podcast. It gives a crystal-clear sound, blocking out background noise.
On dark days, or for night meetings you may need some light. If you have video meetings with a window behind you, the light will wash you out. If you need more light, consider this 10" Ring Light with 50" Extendable Tripod Stand, with Phone Holder.
There are other lighting options available, depending on the needs of the space you are using. For example, this HPUSN Softbox Lighting Kit, with 20-inch X 28-inch no-glare reflector , below, provides a wash of light that will reduce shadows.
As you can see, it doesn't cost very much to make a big different in the quality. It may seem that these are things we are only going to be doing during the pandemic, but video conferencing is here to stay. It can save big bucks in travel in lodging for meetings of people from different locations. Livestreaming worship is likely here to stay as well. Those who can attend will, but the homebound my find livestreaming a great opportunity. And consider the message you are trying to get out. If others can jump in from anywhere in the world, does this not offer tremendous potential for outreach?
Need Help?
Chris Lake, pastor at Tree of Life Lutheran Church in Conroe has helped a few congregations. He's currently installing quite a bit of hardware at St. John in Waller. He's helped Christ Lutheran in Brenham by phone, and a few other congregations since the pandemic began. Call his cell phone at 936-697-0145.
Phil Oestreich is happy to talk with you about setting up an FM transmitter for parking lot worship. [email protected]