By Bishop Mike Rinehart
For many of us, the Christmas decorations from this unique pandemic Christmas have not yet been packed away for another year. So how does it feel to think about Lent? Too soon?
Ash Wednesday is February 17, 2021, not the earliest Ash Wednesday can fall (February 4), but early enough. Lent will begin six weeks after Epiphany this year. Have you chosen a theme for your Wednesday services yet?
The Sunday morning Revised Common Lectionary texts are as follows:
Lent 1 (2/21/21): Mark 1 – Baptism of Jesus, Temptation, arrest of John
Lent 2 (2/28/21): Mark 8 – Peter's confession and rebuke
Lent 3 (3/7/21): John 2 –Cleansing of the Temple
Lent 4 (3/14/21): John 3 – Just as Moses "lifted up" the serpent in the wilderness, so must the Son of Man be lifted up, For God so loved the world…
Lent 5 (3/21/21): John 12 – Greeks. Sir we wish to see Jesus. Unless a grain of wheat falls to the earth and dies…
If you're in the Narrative Lectionary, you're in Year 3 (Luke):
Lent 1 (2/21/21): Luke 10:25-42 – Good Samaritan
Lent 2 (2/28/21): Luke 13:1-9, 31-35 – Lament over Jerusalem/Fig Tree/Siloam Tower
Lent 3 (3/7/21): Luke 15:1-32 – Lost Sheep, Coin, Son
Lent 4 (3/14/21): Luke 16:19-31 – Rich Man and Lazarus
Lent 5 (3/21/21): Luke 18:31—19:10 – Zacchaeus, healing appointment, I came to save the lost
But what about Wednesday Lenten services this year? It's hard to say what Lenten services will look like this year. As I'm writing this in December, it appears that the vaccine will not be distributed sufficiently to allow us to dispense with physical distancing. Some will have small services with social distancing. Others will do online services or devotions on Wednesdays. Some may opt for a series of  small group studies.
Either way, we will need to plan. Now is the time to get ready. I always like to put books in peoples hands, to encourage devotional reading and support increasing theological depth. I look for things to read that are not so scholarly that they are difficult to understand, and people lose interest. I also don't want light, fundamentalist, pop theology, so finding some thing just right can be a challenge. If you need some ideas to consider, below are three possibilities worth considering. Two are books, about the same length: around 20 pages per chapter. All three have six chapters/sessions, that could be applied to the six Wednesdays of Lent, including Ash Wednesday, or in the case of Levine's book, saving the chapter on the last supper until Maundy Thursday.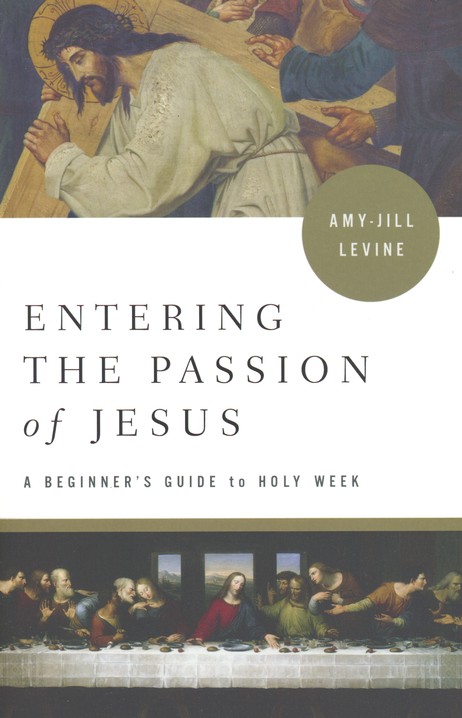 Entering the Passion: A Beginners Guide to Holy Week
By Amy-Jill Levine
Amy Jill Levine is a Jewish New Testament scholar at Vanderbilt. Among her many books is a favorite reference that I use quite a bit: The Jewish Annotated New Testament. Dr. Levine reminds us of the Jewishness of Jesus, a reality that has been eroded over the years of westernizing and Christianizing him. Getting clarity in this matter brings profound insights to the Gospels.
Entering the Passion focuses on the last week of Jesus life, looking at six different episodes. The book is a great read. Even if our people don't read every word, it provides thoughtful background for the preacher. The book also comes with a leader guide entitled Entering the Passion of Jesus Leader Guide.
There is also a DVD worth having. The DVD has 10-12 minute video segments for each session. The leader guide includes prayers, discussion questions and activities.
Session 1: Jerusalem: Risking Reputation
Session 2: The Temple: Risking Righteous Anger
Session 3: Teachings: Risking Challenge
Session 4: The First Dinner: Risking Rejection
Session 5: The Last Supper: Risking the Loss of Friends
Session 6: Gethsemane: Risking Temptation
Be sure to give them ample time to order the book and read the first chapter before Ash Wednesday. Participants may also want Bibles. I could envision using the video in an online video Bible study, and then having discussion. If there a lot of people on the zoom, you could break them into small groups using Zoom's breakout group function.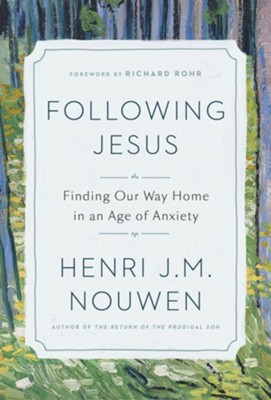 Following Jesus: Finding Our Way Home in an Age of Anxiety
By Henri Nouwen, Gabrielle Earnshaw, ed.
Gabrielle Earnshaw has gathered together some throughtful Nouwen writings. This could not come at a better time. Watching people literally come to blows over masks, lets us know just how anxious our society is at the moment. Nouwen spoke after his return from Peru.
In her editor's note, Gabrielle Earnshaw tells us that Finding Our Way Home is "based on six talks by Henri Nouwen delivered over Lent at St. Paul Church in Cambridge, Massachusetts, in 1985." (Page 135) Earnshaw herself made the transcriptions from audio tapes and Nouwen's hand-written point form notes.
While Levine helps us dig into the texts and their context to understand more fully the passion of Jesus, Nouwen, speaks more like a spiritual director who is interested in our spiritual lives, our prayer lives and other daily faith practices. He invites us to imagine ourselves in the story, like one might do in a guided meditation or lectio divina.
Just be there in this picture.
Just be there where John and Andrew are, eager to start a new life, with a new focus, a new beginning, a new heart, a new soul… (p. 18)
After a foreword by Richard Rohr, there are six chapters:
Chapter 1. The Invitation: "Come and See"
Chapter 2. The Call: "Come Follow Me"
Chapter 3. The Challenge: "Love Your Enemies"
Chapter 4. The Cost: "Take Up Your Cross"
Chapter 5. The Reward: "My Joy Will Be Yours"
Chapter 6. The Promise: "I Will Be with You Always"
I actually listened to this book while I walked, and found it a helpful devotional practice during a pandemic. You can purchase the book as an audiobook, or do what I do: I simply set my iPhone to "speak screen" (settings > accessibility). What if even 1/4 of your people spent Lent reading a devotional book that strengthened their faith, and taught them how to follow Jesus during anxious times? That might have valuable impact on the congregation's lIfe.
Published in 2019 this book is available in $10 Kindle format and $20 in print. It is an affordable and worthwhile investment. The cover is an 1890 Van Gogh.
Deepening Worship: Why Do We Do That?
By Pastor Mindy Roll
Just as we were going to publish the first two Lenten series suggestions, our very own Pastor Mindy Roll (Zion Houston) posted about a series that she had written. We had to include it here. You may recall that Pastor Mindy also wrote the series Deepening Faith: To Know and Be Known. She generously offers this new series at no cost.
Deepening Worship: Why Do We Do That? covers the "whys" of worship in the Lutheran tradition. The series is not intended to be comprehensive. There's a lot about worship as series does not cover. This is an introduction. Like the series above, this series has six sessions:
Confession and Forgiveness
Thanksgiving for Baptism
Listening to and for the Word
The Creed and the Prayers of the People
The Sharing of the Peace and the Offering
The Meal
There are exercises for reflection between sessions, and discussion questions for each session. At the end Pastor Roll provides a bibliography for further study.