To PIVOT means to rotate or revolve; to depend on…
What would it mean for faith leaders to pivot towards courage, change, and community?
What would it look like if we actually depended on God to lead us as we lead others?
What would it feel like return to ourselves, to each other, and ultimately, to God?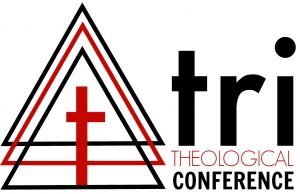 We are excited to announce that
online registration
is now open for the
2019 Tri-Theological Conference
PIVOT. Online registration is open from now until January 20, 2019. Early bird registration is $250 per person and available until November 30, 2018. Regular registration is $275 per person and is available until January 20, 2019. On-site registration will be available for $300 per person.The Tri-Theological Conference is a ministry of the Gulf Coast Synod,
the Northern Texas – Northern Louisiana Synod
, and the
Southwestern Texas Synod
.
After a break in 2018, we are back with a newly designed conference. Tri-Theological is designed for lay and rostered leaders who are seeking to transform their leadership, renew their spiritual life, and inspire their theological imagination.This year we welcome Reesheda Graham-Washington and the Rev. Dr. Shawn Casselberry as our keynote presenters, the co-authors of Soul Force: Seven Pivots Towards Courage, Change, and Community.The Gulf Coast Synod serves as host for the 2019 conference. We are excited to partner with The Lyceum of Galveston and First Lutheran Church as our conference venue.Click here to register now! Conference details and online registration can be found at our new website, http://tritheo.org. Connect with us online on Facebook, Instagram, and Twitter – @tritheological – and make sure to use our event hashtag, #tritheo19. For more information about the event, send us an email at [email protected] or visit the conference website at http://tritheo.org.
---
Limited Scholarships Available:
Interested parties should register and choose "Pay by check" at checkout.