40-Day Journey with Martin Luther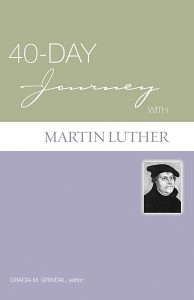 lifts up forty inspiring passages from Luther's writings, especially in the Small and Large Catechisms, raising profound truths about faith and life and guiding readers on a rich journey of reflection. 
Includes a short introduction to Luther's life, journal-writing exercises and daily prayers. A rich resource for personal meditation or small group discussion. An inspiring companion anytime. Ideal for traveling through the seasons of Advent and Lent.
Each day's entry includes a Luther quote, a related biblical passage, a psalm excerpt, a prayer, questions to ponder, and a space for personal notes. Take your entire congregation on a 40-Day Journey.