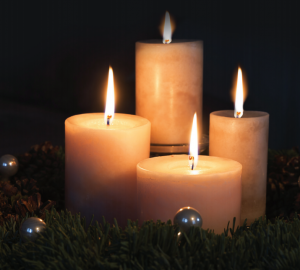 The story of Advent is a story of hunger. A people's hunger for salvation, the fleeing holy family's hunger for safety, and the world's hunger for a new dawn. It is a season when we await the one who will "give light to those who sit in darkness and in the shadow of death" (Luke 1:79a).
Advent hope draws us into the world as people of promise, people for whom the "shadow of death" cast by deep hunger and poverty around the world is not God's final word to God's people. In Advent, we reflect on how far the Lord has led us and how far we have yet to go toward a world in which all are fed. As we prepare for the arrival of God's Son, this season offers an important opportunity to reflect on the mystery and excitement of the promise from God.
This Advent, we invite you to journey with ELCA World Hunger through the Scripture readings for this season. This study takes us through each week of Advent with devotions based on the lectionary, questions for reflection, prayers and hymn suggestions. The study can be used as a guide for worship, adult study forums, or personal devotions at home. Blessings related to our church's response to hunger and poverty are also included.
Each week's theme:
Shared vulnerability (Matthew 24)
The "good fruit" of repentance (Matthew 3)
Care for creation (Matthew 11; Isaiah 35)
Finding God in unexpected places (Matthew 1)
Resources
May you and your community be blessed, enriched and challenged by this Advent resource, and may the stirrings of the season take root within you.