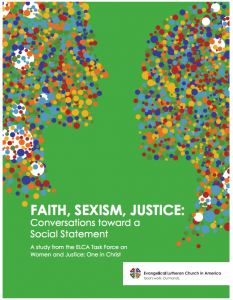 The ELCA recognizes the God-given dignity of all people and is committed to the full and equitable participation of women and men in church and society. God rejoices – and the world is blessed – when all have opportunities to flourish and freely share their gifts for the common good.
We as a church body are engaged in a concerted discussion around women and justice in church and society. Whatever your experiences and perspectives, you are invited to use this study, "Faith, Sexism, Justice: Conversations toward a Social Statement."
It is a call to hear new things and to explore together how matters of justice and sexism intersect with faith. I encourage its widespread use across our church – in congregations, conferences, circles, social ministry organizations, campus ministries, youth gatherings, homes, and classrooms.
Your participation in this process is important because the feedback you share (due by August 31, 2017) will help the task force continue to think together with our whole church when they sit down to shape the first draft of a social statement.
A study from the ELCA Task Force on Women and Justice: One in Christ