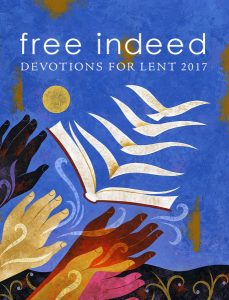 "Free Indeed: Devotions for Lent" is a beautiful, full-color devotional that takes you through Lent with daily readings from Martin Luther's Small Catechism. Each reading is accompanied by a photo, a quote to ponder, reflection, and prayer.
Free Indeed invites you to reflect on Martin Luther's guide to the basics of Christian faith during the Lenten season, and within the observance of the 500th anniversary of the Reformation.
Available in pocket and large print editions.