Using Bisquick gluten free baking mix, this recipe makes good tasting, non-crumbly, and spongy gluten free bread perfect for communion.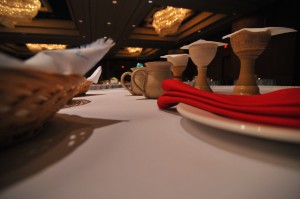 Start with the original bisquick recipe on the back of the box and make the following changes:
Ingredients
2 cups of Bisquick gluten free mix
1/3 cup of melted butter or vegetable oil (instead of shortening)
2/3 cup of milk
2 eggs (instead of 3 eggs)
Optional: Add a little molasses to batter 
Directions
Heat oven to 400°F.
In a large bowl, use a spoon to mix Bisquick with butter or oil, milk, and eggs until soft dough forms.
Line a cookie sheet with aluminum foil and lightly spray with cooking spray.
Divide dough into five sections. Roll each dough ball in your hands and begin lightly flattening the ball. Place flattened dough onto the cookie sheet and continue to flatten into a round disc.
Bake 13 to 16 minutes or until golden brown.

Optional: flip bread halfway through baking

After cooling, you can place the communion bread into freezer bags and freeze. When defrosting, wrap individual bread in a wetted paper towel and warm for 10 second increments in the microwave.