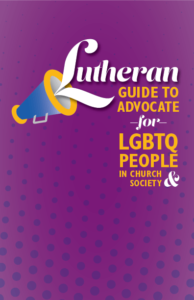 The Lutheran Guide to Advocate contains resources and tools for Lutherans as they create space for people of all sexual orientations, gender identities, and gender expressions in our church and in our society.
This resource is a starting point for you and your Lutheran faith community as it seeks to advocate for lesbian, gay, bisexual, transgender, and queer (LGBTQ) people in church and society.
It is ReconcilingWorks' hope that tools and answers in this guide will give your community the boldness to proclaim Christ's gospel of radical inclusion and hospitality to your neighbors, our church, and our world. All Christians, including Lutherans, are called to care for everyone, fight against discrimination and marginalization, and work for justice.