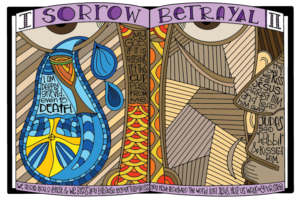 Stations of the Cross allow us to follow Christ through his last few days, stopping to ponder and reflect along the way. There is a rich visual history of the Stations of the Cross, and the stations have been painted, sketched, illustrated, and drawn in some beautiful and creative ways.
Use the Stations of the Cross Coloring Posters to create something meaningful to both children and adults.
Stations of the Cross: Scriptural Form
The Illustrated Children's Ministry community comes from over 25 different denominations, some of whom may not be familiar with the Stations of the Cross. They felt more drawn to the scriptural form of the Stations of the Cross, which Pope John Paul II introduced as the Scriptural Way of the Cross on Good Friday 1991. The stations are listed below, along with their accompanying scripture reference:
Station 1: Jesus in the Garden of Gethsemane (Matthew 26:36-41)
Station 2: Jesus, Betrayed by Judas, is Arrested (Mark 14:43-46)
Station 3: Jesus is Condemned by the Sanhedrin (Luke 22:66-71)
Station 4: Jesus is Denied by Peter (Matthew 26:69-75)
Station 5: Jesus is Judged by Pilate (Mark 15:1-5, 15)
Station 6: Jesus is Scourged and Crowned with Thorns (John 19:1-3)
Station 7: Jesus Bears the Cross (John 19:6, 15-17)
Station 8: Jesus is Helped by Simon the Cyrenian to Carry the Cross (Mark 15:21)
Station 9: Jesus Meets the Women of Jerusalem (Luke 23:27-31)
Station 10: Jesus is Crucified (Luke 23:33-34)
Station 11: Jesus Promises His Kingdom to the Good Thief (Luke 23:39-43)
Station 12: Jesus Speaks to His Mother and the Disciples (John 19:25-27)
Station 13: Jesus Dies on the Cross (Luke 23:44-46)
Station 14: Jesus is Placed in the Tomb (Matthew 27:57-60)
There is also a fifteenth station: the Resurrection of Jesus (Mark 16:1-6).
While the traditional form of the stations depict some stories that are taken from tradition, rather than from scripture, the scriptural form of the stations presents a version of this devotion that more closely aligned with the biblical accounts.
How to use your Stations of the Cross Coloring Posters
Below are just a few ideas for how you might be able to incorporate our Stations of the Cross coloring posters into your programs or communities:
Children's Ministry: Find ways to incorporate the posters into your Sunday morning programs for children (whether that's during Sunday School or during another time).
Worship: Dedicate a section in your worship space to allow young people (and those who are young at heart) to color during worship. This is a great way to allow children to engage with worship in a fun and creative way.
Youth Ministry: Children aren't the only ones who like to color.
Intergenerational ministry opportunities: By far, one of the most popular uses for our coloring posters is to create intergenerational worship and fellowship opportunities during Advent and Lent. Many churches do a Wednesday night Lenten supper program, or have weekly opportunities for gathering, and our coloring posters work great in those settings. Whether you just have the posters out on tables for people who are waiting to eat, or you create an entire program around the Stations of the Cross for an intergenerational group, you'll be amazed at the conversations that can be had while multiple generations get together and color.
College/campus ministries: This is a fun opportunity for a campus ministry to do during Lent.
Private/Parochial Schools: Some private Christian schools use the posters and find ways to engage multiple classrooms in creating a collaborative art project. Many schools could use these Stations of the Cross coloring posters to create a really unique educational opportunity by creating art together.