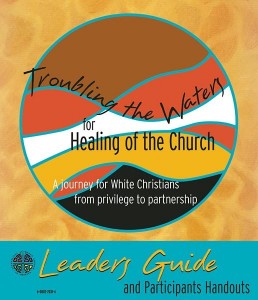 "Troubling the Waters for Healing of the Church" is a resource that is developed specifically for white congregational members and others to help them understand the role that white privilege and internalized white superiority has had in shaping their own attitudes, belief systems, cultures, and those of the church and society at large.
This resource has been designed by white people for white people to equip them with tools that will aid them in addressing and breaking the cycle of socialization that perpetuates racism and sustains an exclusive church. The resource will help white congregational members or groups to embark on a journey of learning from one another as well as from people of color who may enter the river of conversations with them as time goes on.
The resource is broken down into 18 sessions starting with the Advent season and ending with Pentecost.
The resource material should be presented by two facilitators, but can be done by one facilitator. Participants are not expected to have a copy of the resource, however, it is expected that each facilitator have a copy. The resource is separated into two sections:
Facilitator instruction and guide
Participant handout section which may be photocopied