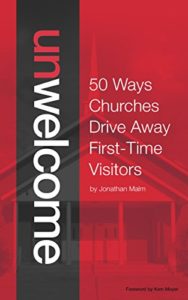 Walking into a church for the first time can be scary. Are you making your first-time guests feel welcome? Or are you driving them away—unintentionally—with bad signage, reserved seating, clunky communication, and more?
Purchase a copy of Unwelcome: 50 Ways Churches Drive Away First-Time Visitors examines 50 ways churches make first-time visitors feel unwelcome. The transgressions range from insider lingo to awkward transitions, a cold congregation to the over-eager greeter. Some you may recognize, while others are things you may not know. Hospitality is only one part of evangelism.
With all 50 church faux pas, Jonathan suggests ways to not only fix the problem, but also infuse excellence into the situation so churches can put their best foot forward with first-time guests. A few simple changes can help your church roll out the welcome mat for your guests.
What is "glaringly cringeworthy" to others is often invisible to us – that smell in the nursery, the locked door. Malm hears this and calls us to get out of the way, "Therefore, I conclude that we should not cause extra difficulty for those Gentiles who are turning to God." Unwelcome invites us to not cause newcomers "extra difficulty."
This is a great book study with congregation councils and evangelism teams.